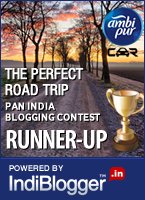 My Forest Snaps
Being a guy fond of travelling, I had journeyed across the length and breadth of India with friends and sometimes with my family and had ample experiences in my basket to share. It could have extended from my Yamaha-RX biking from Cochin to Kodaikanal, the Bullet ride to Kashi or the Jeep drives in the dense jungles of Amarkantak, none of which I had penned down anywhere. But when I heard about this particular contest, I wanted to try something unusual, different from what I did in the past and at the same time adventurous too, as for the first time I would be writing a travelogue. So I called up my friend Vinayan, who resides at Adimali in the Idukki district, to suggest a road, where I could be adventurous enough. Vinayan always loved travelling and was good at discovering new trails, through the hills, caves, and forests.
The Fisherman Shack
Travelling on any road in Kerala, would have been adventurous enough, but to my delight Vinayan recommended a forest trail, which he recently discovered, formed by the local pedestrians and the Adivasis. It extended from Thokkupara in Idukki district to Ayyampuzha in Ernakulam district. It stretched almost 110Kms by road, but as he said, by availing the forest road, I could curtail almost 10Kms. The forest road ran beside Adimali, but it was much difficult to enter the forest route from there, the land being marshier. People travelled to Thokkupara to enter the forest route.
Vinayan assured me every support in this regard. I went to his house, where we planned the journey. As per the plan I had to cover almost a 100Km through a marshy road on a monsoon day. The major challenges were shelter, rain and wild creatures like elephants, boars, snakes and buffaloes. I had to reach Pooyamkutty, before dark, as the animals would get more active during the night. At night I was supposed to stay at a temporary tin-sheeted fisherman shack, built on the banks of river Periyar. It was the shack which the travellers relied on. The very first road that I had to cross across the line was the AM road on NH-49. Thereafter the forest route ran parallel to Pooyamkutty-Manakulam road, and then it went straight into the forest. As Murugan said, I was supposed to cross the tributaries of Periyar at least thrice. For the first time I could avail the Pooyamkutty-Munnar trail to cross the river. Unlike other road trips Vinayan couldn't accompany me, as he had some work at the village office. So I had to do a solo performance this time. This was the only road trip in my life, which I went without informing my family.
St.Sebastian's Church
The Forest Clearing From Where I Started My Journey
So the plan was well set. The sun showed up after two days of heavy pours. It was the morning of 13.07.2013. My bag constituted the inevitable stuffs, like water, glucose pack, bananas, bread, peanuts (as they were easily available and could stay unspoilt for long) candles, matchbox, knife, umbrella, camera and a torch. I started my journey at 5.00 am from Adimali. Vinayan took less than half an hour to drop me at Thokkupara. The only available and possible means through which I could travel was an MTB Hercules bicycle, which Vinayan had already arranged for me. We had tea from a roadside rustic restaurant. By 5.30 am, I saw Murugan, Vinayan's cousin, who lived in Thokkupara, riding towards us on the bicycle, on which I had to travel. The road started from a forest clearing in Thokkupara after the St.Sebastian's Church. Vinayan and Murugan gave me the basic instructions to be followed while travelling through a forest route. Vinayan told me to keep my cell phone at reach as the range might dwindle in between. Bidding them adieu, I pedaled towards the north by 6.00 am...
The Banyan Tree, Under Which I Stood
The Stinging Nettle Under The Banyan Tree
The Clearing Where I Had My Lunch
The road was swampier and the forest was darker than I had imagined. The aura was frightening with the bees buzzing, frogs croaking and every hissing sound generated a picture of King Cobra in my mind. The pathetic part of this journey was that I couldn't move fast. It was making me exhausted to pedal harder and harder, and trust me I really wanted to drop the plan and go back. But somehow I wanted to do it. Slowly, I started enjoying the air, though it smelt of decayed plants and shrubs. There were butterflies, unknown birds, and wild flowers to soothe my senses. Suddenly it started raining. I couldn't move forward. I found a big Banyan tree, under which I stood with my umbrella. I found different colours of cloth strips tied on its branches. People considered the tree to be sacred and auspicious and tied the strips and prayed to protect them all their way. I had nothing to tie, so I tied my handkerchief. It was getting dark by afternoon. There was an itching sensation at my legs and soon there were some visible bumps. I bowed down and found the Stinging Nettle mocking at me.
The Trail
As the rain sobered, I started again. It became more difficult to travel then. The road had become marshier. My canvas shoes were losing their hope. I thanked God, as the road never deviated, though it was zigzag. By 3.30 pm, I could catch the glimpse of the Periyar River. There was a cool clearing beside. I sat on the shore and ate peanuts and bananas, my energy boosting protein packed lunch. I checked my cell phone, which still couldn't locate the place. I remembered Vinayan's instructions to follow the tributary of Periyar to reach Pooyamkutty. By 4.00 pm I pedaled again. The small hilly steeps accelerated my journey and I felt a little cold. No sooner I moved forward, I fell in a pit, full of rain water. It seemed to be an old man-made pit to catch the boars. The fall really cramped my ankles. I got up, but couldn't pedal faster, as it pained. Soon I came across, a stoned road, which I guessed, was the Pooyamkutty-Munnar trail, which helped me to cross the tributary of Periyar with much ease. By 6.00 pm, I made it to the shack at Pooyamkutty, fully exhausted. It started raining again, a bit more heavily than before. I stayed inside. As Murugan instructed, it was good to have a fire outside to keep the wild animals away, but the rain prevented the plan. I stayed satisfied and warm with the candle light inside the shack. I wondered and felt proud as I had covered almost 50 kilometres, though it took me 12 long Hours. I ate the bread and blew the candle out. I could clearly make out the differences between the grunts and the trumpets outside. I tightened my closed eyes even more, and soon I was drawn to a deep sleep. I slept like an over fatigued sloth. It was for the first time in my life, that I felt the need of electricity and realized how precious it was, as staying overnight amidst a forest with no human trace, is no less terrifying.
The Pit In Which I Fell
The Marshy Way Through The Arrowroot Plants
A Wild Flower
A Wild Flower
The jumbo mosquitoes were finally successful to wake me up from my sleep, on 14.07.2013. I realized, the place where I slept was very shabby. It was still drizzling outside. My Fast-Track watched ticked 6.30 am. After the morning ablutions, I got a call from Vinayan. He was happy to hear my voice. He assured to wait at the Ayyampuzha-Neeleeswaram road which joins the IB road towards north, the exact place where the forest road ends. The chilled morning was an energy booster to pedal. The peanuts kept me going. It was a nice warm-up exercise. It rained the whole night, so the road got marshier than before. In between my bicycle got stuck in the clay. The cramps prevented me from peddling harder. I got down and pushed the bicycle for over a distance. The way got smoother thereafter. After a while I had to cross the tributary of Periyar across the line. I stood there thinking for a while but then decided to move forward. The shallowness made it much easier to cross the river. As soon as I crossed the river, I heard the trumpets from a long distance. It actually chilled my ribs. I couldn't run, nor move. I felt really afraid, to go forward. I closed my eyes, prayed and moved on. I felt funny, that when I closed my eyes, the first picture that my mind showed me was the bottle of Mountain Dew.
On the way, I spotted some fresh elephant-dung, which terrified me for a while. I engaged myself, snapping the wild flowers, arrowroot plants, the beehive, and the large black millipede. Soon I reached another clearing from where the route deviated towards right. There was a worn-out wooden bridge with rusted iron bars. I called Vinayan, but he was unaware of such a thing over there. I still don't know where it would have led me, but I chose the left way. I was getting more and more exhausted, and I could do nothing with an empty water bottle. I lost the glucose pack somewhere on the way. But I kept going, though at a slow pace. I had a leech bite on my elbow in between. I flung it way into the woods. It was not raining for long. So I decided not to take rest until it rains. I treaded again. I forgot to have food or so called the lunch. To be frank I was fully exhausted by then, but I pedaled on…
The Worn-Out Unknown Wooden Bridge
By 4.00 pm I crossed the tributary, for the third time and reached a clearing, outside the forest. I felt a bit relieved. I could pedal no more. My shoes were damaged. No sooner I started up to call Vinayan, I heard the sound of a vehicle. I moved in that direction. Oh yes!..it was a tarred road. I saw Vinayan and Murugan waiting for me. I cried aloud, with happiness. I did it... almost 100 Kilometres on a bicycle, through the wildlife.
I thanked God, for giving me such an opportunity and to accomplish my mission successfully. I covered 100 Kilometres in almost 40 hours and that too through a forest. I never encountered any wild animals on my way. With God's grace neither I got deviated from my path nor got my bicycle punctured. But this perfect road trip of mine is not advisable as a forest is more horrifying than you see them in Spielberg movies.
The Bee Hive Snapped With My Mobile's Cam
The Marshy Way
The Creepers
On The Banks
A Clearing Among The Arrowroots
A Natural Pond Amidst The Forest
"Into The Wild"